THEATER FOR THE NEW CITY PRESENTS
NEW BOPPING 50'S MUSICAL BY WILLIAM ELECTRIC BLACK,
"MY BOYFRIEND IS A ZOMBIE"
With 13 original, bopping tunes, it's like Grease with a zombie twist.
Jamaal Kendall and Nicole Patullo. Photo by Jonathan Slaff.
WHERE AND WHEN:
June 3 to 27, 2010
Theater for the New City,
155 First Avenue (at East Tenth Street)
Presented by Theater for the New City.
Thurs through Sat at 8:00 pm; Sun at 3:00 pm
Tickets: Adults $15; Students/Zombie Costume $12
Box office (212) 254-1109, www.theaterforthenewcity.net
Runs 1:40 (without intermission).
Recommended for audiences age 10 to 110.
In William Electric Black's newest musical, two guys are in love with the same girl. One's a monster and the other's a wise guy with quick fists. Who's gonna get to take her to the dance? Sounds like "Oklahoma," doesn't it? Fooled ya, it's "My Boyfriend Is A Zombie." The year is 1958 and the dance in question is the Springtown High School Halloween Hop. This time, the monster gets the girl. It's a rockin', boppin' family-friendly show, to be presented by Theater for the New City, 155 First Avenue, June 3 to 27. You can buy a discount ticket if you come in a Zombie costume.
George Romero never had it so tuneful. This piece sports thirteen original numbers written by the team of William Electric Black and Gary Schreiner, both Emmy-winners. There's an ensemble of ten actors and a three-piece live band. Book, lyrics and direction are by William Electric Black.
The girls are chatty: Allison Troesch, Erin Salm, Nicole Patullo, Cara S. Liander, Macah Coates. Photo by Jonathan Slaff.
In the musical, there's a zombie walking the halls of Springtown High, where the girls are chatty, the boys are all juvenile delinquents and life-and-death issues are settled over the pink tables of the Shake Shack nearby. Hot Rod is secretly sweet on Paula Pearlstone, but he's a tough guy and he can't admit it. The guy she favors can't admit anything: he can only say "Grrrr" (and it's his name) because he's a zombie. From the day he tried to play guitar outside her window, she's been smitten with him. She sings:
I know other boys are handsome hunks
And play on the football team.
But my gruesome guy is my maggot pie.
Yeah, he knows how to make chicks scream.
He's kind of shy,
Doesn't drink or smoke
And always slurs his words.
Who could ask for more
From the creature I adore?
Does that make me somewhat disturbed?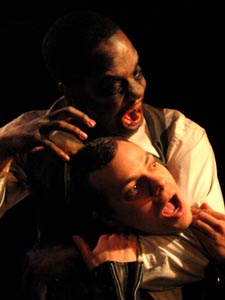 Rumble in the graveyard: Jamaal Kendall and Jeremy Lardieri. Photo by Cathy Rocher.
Paula ultimately accepts Grrr as her date to the Hop, which leads to a rumble between Grrr and Hot Rod in a nearby graveyard. When the cops break it up, Grrr is exiled not to jail, but to Hollywood, where there's a worse fate: "You're just a fad, signin' autographs and sippin' champagne. You smile for the camera, smile for the fans. But nobody truly understands a monster needs much more than just fame." So the kids in Springtown do the right thing: they give up their movie and cigarette money so Paula can buy a bus ticket to L.A. to join Grrr. But can she rescue him from the clutches of his Hollywood co-star, the insidious Miss LaMere?
Last season, author/director William Electric Black directed TNC's sensational and serious "Lonely Soldier Monologues: Women at War in Iraq." The play was a staged series of monologues based on a book by Helen Benedict. It significantly helped the issues of female soldiers to be widely recognized for the first time. This season's production represents the "other" genre of Black's theatrical work, which is creating delightful musicals for family audiences. Interestingly, six members of the cast of "Lonely Soldier Monologues..." are appearing in "My Boyfriend Is A Zombie."
Since 1999, Black has penned and directed a series of "jazzicals" in which classical and modern stories were adapted with modern music. Significant among these have been productions at TNC, which gave Black his start in theater, presenting his earliest work, "Billy Stars and Kid Jupiter." Now, TNC proudly continues its tradition of supporting and developing Black's unusual and energetic theatrical work. Too bad if you missed his previous rock musical at TNC, "Betty and the Belrays" (2007), in which three white female singers challenged a racially divided society by singing for a black record label. Black's theater projects have also been produced at La MaMa, in Boston, Chicago, and Los Angeles.
The monster and his creator: Jamaal Kendall and William Electric Black. Photo by Cathy Rocher.
Writing as Ian Ellis James, Black has won seven Emmies as a writer for "Sesame Street." His educational TV projects have also been produced by Topstone Productions, Lancet Media, Nickelodeon, Scholastic Productions, Warner Cable, and Winchester TV & Film, London. Black composed songs for Queen Latifah, Erykah Badu, Patti Labelle, and Arrested Development when they made special guest appearances on Sesame Street. He has received several Best Play Awards, been published by Benchmark Education, The Dramatic Publishing Co., Smith & Krauss, and received a Bronze Apple for directing (National Educational Video Award). Black has had two film scripts optioned, "Slave Ball" for Silver Pictures/Warner Brothers and "Road Runner" for MCA Records, Jerome Ade, Producer. He has also written, directed, and produced two independent features.
Black is curator of the Poetry Electric reading series at La MaMa, which fuses music, movement, sound, and dance with the spoken word. Black is also an adjunct professor at NYU's Tisch School, where among other things, he teaches techniques performance of plays based on literary works.
Co-composer Gary Schreiner received an Emmy for his work on the PBS special "Sneakers," starring Jon Secada. and writes music actively for films, TV and theater. He has contributed music to 23 feature films, including "Donnie Brasco," "Larry the Cable Guy: Health Inspector" and "Tiptoes." In theater, he scored Alison Larkin's hit one woman show, "The English American," which led to the bestselling novel of the same name. In independent films, he wrote the music for "The Pirates of Central Park," which won prizes at Long Island International Film Expo and San Francisco International Film Festival.
The actors are Nicole Patullo (as Paula), Cara S.Liander, Allison Troesch and Macah Coates (as her teenage friends), Jamaal Kendall (as Grrr, the zombie); Jeremy Lardieri, Lenin Alevante and Matthew Hooper (as the three punks), Erin Salm (as the Student Council President) and Verna Hampton (as Zombette, the narrator) The musicians are Gary Schreiner (co-composer/keyboard), Saadi Zain (bass) and James Mussen (drums). Choreography is by Jeremy Lardieri. Lighting design is by Federico Restrepo. Costume design is by Tilly Grimes. Makeup design is by Kate Tsang.
The three punks: Matthew Hooper, Jeremy Lardieri, Lenin Alevante.
Photo by Jonathan Slaff.

Verna Hampton as Tanya Terrell, singing at the Halloween Hop. Photo by Jonathan Slaff.
Photos on this page have costume design by Tilly Grimes and makeup design by Kate Tsang.